The specificity of hotels and guest houses implies the need for installing ventilation units in every separate area in the hotel (hotel rooms, lobbies and corridors). It enables hotel guests and personnel to control the indoor climate both individually and on demand. Hotel Solution is an optimal solution ensuring comfort noiseless ventilation with minimum energy consumed.
Ventilation requirements for hotels
Hotels can be located in separate buildings or occupy part of an existing structure. Such projects require a special approach to the design, implementation and operation of engineering systems, for example, proper position of ventilation equipment without interfering with the building structure.
Moreover, the building can be considered an architectural monument, which greatly complicates engineers' challenges during design work.
The key particular feature of buildings of this type is a large number of separate rooms that differ in layout and area, and for which comfortable low-noise level ventilation is vital. However, the number of people indoors varies throughout the day. Modern hotels offer their guests a variety of additional services: cafes and restaurants, conference rooms, business centers, beauty parlours, fitness centres, swimming pools, etc. All these rooms are different and require tailor-made solutions to ensure a proper indoor climate.
According to the studies, the indoor environment has a direct impact on the quality of sleep, and the guests' well-being increases their loyalty to the hotel.
It is most important for the ventilation and air conditioning system to be able to provide each guest with an opportunity to individually control the fresh air supply rate and temperature to create a comfortable indoor environment they prefer. That is why, there are special requirements for automatic control systems used by hotels, such as simple and easy operation and maintenance.
Hotels are open throughout the year, regardless of the season, and hotel business owners are very keen to improve the energy efficiency and reduce the operating costs of their ventilation systems. For the areas where guests or employees are not currently present, the need for ventilation, cooling or heating is minimal. Operating ventilation equipment in empty rooms is a waste of electricity and natural resources.
In small space, it is important to maintain airflow efficiency without sacrificing space, so air diffusers should be compact, installed in accessible places, and ensure a low noise level, particularly at night time.
Swegon solutions for hotels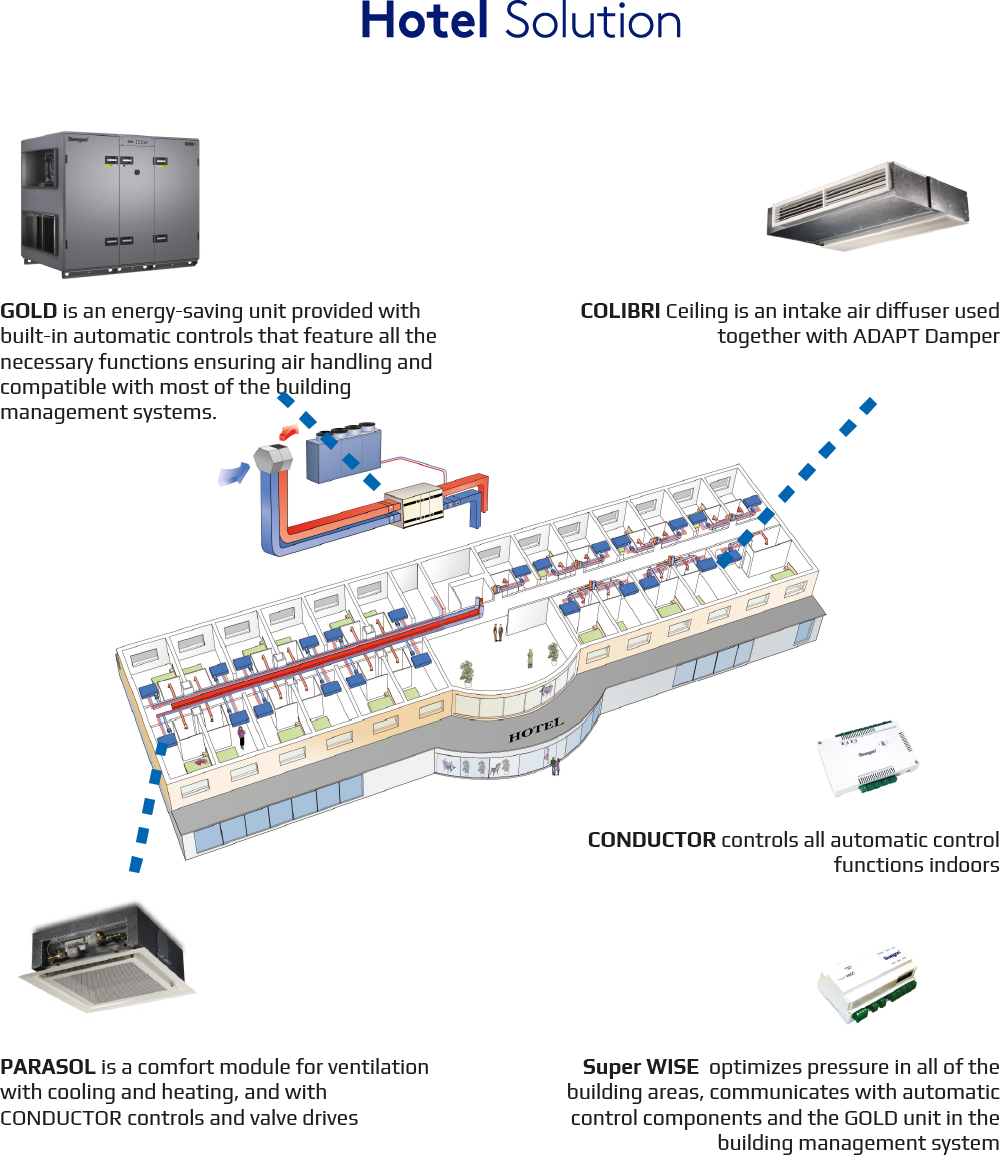 The Swegon Group has developed an optimal integrated solution for the indoor climate in hotels and inns, the Swegon Hotel Solution, which has everything you need to provide for ventilation and indoor climate in hotel rooms and public spaces.
GOLD is an energy-efficient air handling unit with a capacity of up to 7.8 cub m/s. The unit is fitted with Wing fans with a controlled rotational speed and a high efficiency Reconomic rotary heat exchanger. F7 class filters are used.
AZURA is a multifunctional device operating both as a heat pump and as a chiller to simultaneously and independently supply cold as well as hot water to the climate systems.
PARAGON is a compact high capacity module that ensures air supply, heating and cooling, and is optimal for hotel rooms as it does not have a built-in fan. The noise level is between 26 and 32 dB, just like the ticking of a wall clock or the soft tone of a laptop hard disk.
Intelligent control modules (CONDUCTOR, Super WISE, All Year Comfort, NESTOR, REMOTE ACCESS). The system includes from three to five such modules, depending on function control parameters that are required.
A smart automatic control system detects guest presence, controls the airflow rate and monitors the temperature in each room using various sensors. The indoor climate can also be controlled based on the BMS (Building Management System) of the building, which is possible due to the built-in automatic controls of the GOLD unit.
Advantages of Swegon Hotel Solution
Energy efficiency
Swegon Hotel Solution helps save energy through the use of ventilation on demand: air supply, cooling and heating are provided in the rooms as required. The system analyzes the CO2 level in public spaces to adjust the quantity of air supplied and removed by the ventilation system using sensor indications. An option is provided to preset a low airflow rate in the rooms in the absence of people. Once the key card is activated, the high airflow mode switches on with simultaneous room temperature adjustment.
Comfort
Fanless ejection terminals installed in hotel rooms ensure a minimal noise level and a comfortable temperature, and the automatic control system helps individually adjust the necessary parameters.
Low operating costs
The absence of filters and moving components greatly simplifies the servicing inside the rooms, and the on-demand variable air consumption system allows to increase the service life of the equipment and reduce the number of servicing calls.
Compactness
Climate modules are compact and easy to install even in small spaces. In addition, the GOLD air handling unit requires minimum space due to the use of axial radial fans, and can be installed without a ventilation chamber.
Hotels equipped with Swegon Hotel Solution systems
The products of Swegon AB are used in hotels across the world. Prestigious European hotels rely on Swegon Hotel Solution systems to maintain indoor climate, including First Hotel Avalon (Gothenburg, Sweden), Nordic Light Hotel (Stockholm, Sweden), Best Western Hotels (Germany, Poland, and Sweden), Holiday Inn (Cologne, Germany), Unia Hotel (Lublin, Poland), The St. Regis Moscow Nikolskaya (Moscow, Russia), Polyana 1389 Hotel & Spa (Sochi, Russia), and many others.
The Swegon Hotel Solution equipment is specially selected for the ventilation and air conditioning of hotels, taking into account all the factors that are important for the hospitality industry. PM Vent specialists are ready to design an advanced energy-saving system for you, using the best European solutions and our own expertise.