Office space includes chambers of one or several persons, open spaces, conference rooms, recreations spaces, and corporate kitchens. Each such room needs a ventilation and air conditioning mode of its own. The Office Solution systems address this task by means of adjusting fresh air supply based on the data from temperature, CO2 and proximity sensors. Demand-controlled ventilation provided in each space ensures a comfortable customized indoor climate.
Requirements for the ventilation of business centres
There are different types of business centres, which are ranked from the most comfortable to the most modest ones, according to the generally accepted classification (A, B, C, D).
Class A business centres are typically newly built edifices with new utility lines, including water, heat and power supply systems, lighting, and building's BMS. Their climate control and ventilation systems are, as a rule, developed at an early design stage. Class B administrative space is provided both in new and historical refurbished buildings, and has a good quality engineering infrastructure.
Class C and D business centres are frequently located in old administrative buildings and sometimes in premises that require major repairs such as former housing stock. Large-scale repairs and replacement of utility lines help make such premises more convenient for work and attractive for tenants, while the class of office centre is upgraded.
Regardless of whether the business centre is a greenfield or a brownfield project, it needs an elaborate ventilation and air conditioning system that takes into account the specifics of office space.
The use of a large number of lighting fixtures and office equipment in business centres leads to high heat surpluses. At the same time, lofts and open-plan offices feature large areas and high ceilings. The temperature is such spaces is unevenly distributed since warm air rises up, so it is important to ensure a uniform air supply using a ventilation system.
The personnel work in the offices for most of the day, so it is essential to provide for an uninterrupted flow of fresh air and removal of extract air. In enclosed spaces, where people stay during the day, the CO2 content rapidly rises. Lack of oxygen and excess of CO2 lead to high fatigue of people and reduce their productivity. At the same time, office centres have different function areas and various types of office space that require individual ventilation and air conditioning solutions. While there are people permanently staying in the main workspace, the conference and meeting rooms are only used occasionally.
Creating a comfortable indoor climate in business centres requires a comprehensive system that will provide for airing, heating and cooling, draft-free removal of excess heat, and will not occupy to much usable area and ensure individual operating modes for different rooms.
Solution to provide for a proper indoor environment in business centres
Swegon AB offers end-to-end integrated technical solutions for business centre ventilation based on the use of various types of equipment. The Swegon Office Solution Air system provides solutions for ventilation, cooling and heating, and the Swegon Office Solution Water system is responsible for climate control using hot and cold water. Both solutions are based on the use of Swegon's GOLD air handling unit, with a capacity of up to 7.8 cub m/s. The unit is fitted with Wing fans with a controlled rotational speed and a high performance Reconomic rotary heat exchanger.
Swegon Solution Office Air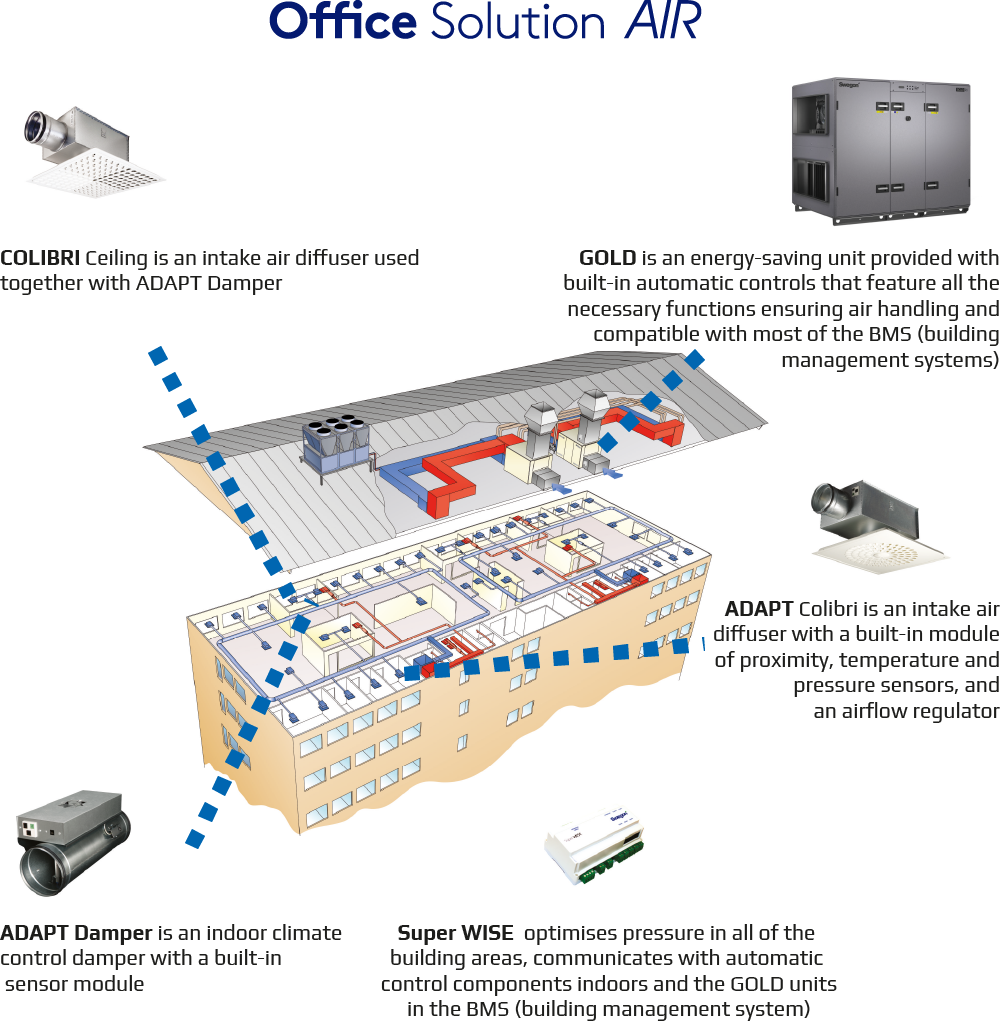 GOLD is an integrated ventilation unit
TEAL is a reversible heat and cold chiller with a convenient modular design, high COP/EER*, low noise level and built-in automatic controls
Diffusers: ADAPT Colibri, COLIBRI Ceiling
ADAPT Damper controls indoor climate to ensure on-demand ventilation and cooling of conference rooms and open spaces
Four control modules (Super WISE, All Year Comfort, NESTOR, REMOTE ACCESS)
Swegon Solution Office Water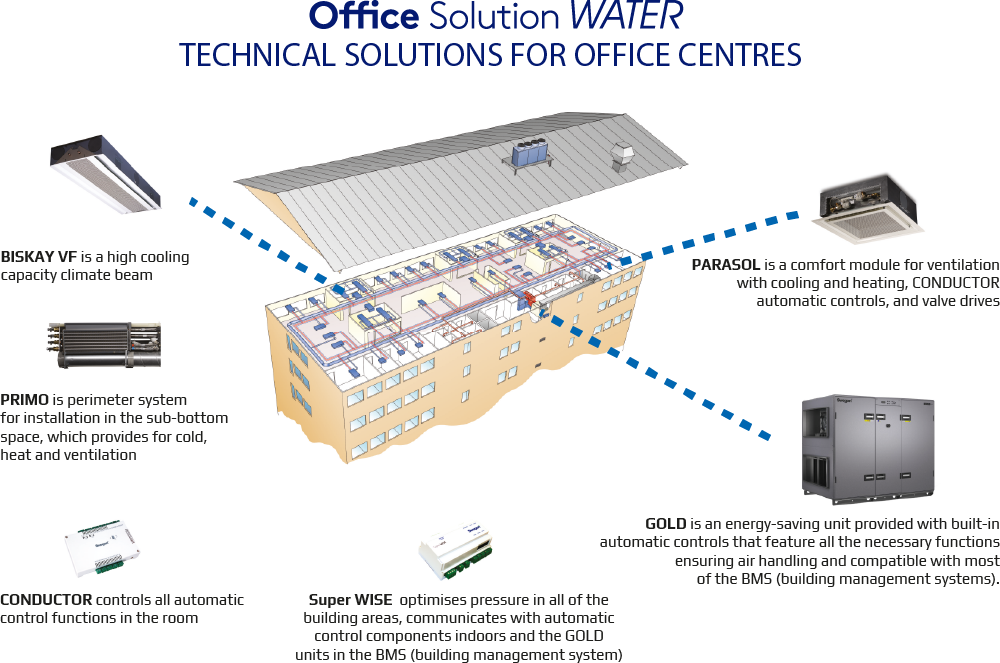 GOLD is an integrated ventilation unit
AZURA is a chiller with a heat pump for simultaneous and independent production of cold and hot water supplied to climate systems
PACIFIC is a cooling beam that performs the functions of ventilation, cooling and heating, and is mounted in a suspended ceiling
PRIMO is a façade system for transporting, heating and cooling the air
PARASOL are ergonomic modules for ceiling mounting
Three to five smart control modules (the same as in the air system and CONDUCTOR, as required)
Advantages of Swegon Office Solutions
Comfortable indoor climate
The use of diffusers and cooling beams with mild air dissipation helps ensure an efficient air exchange without draughts and with a uniform supply of fresh air to all the workplaces.
Automatic controls and communication
The automatic controls kit with a sensor module built into the diffuser monitors temperature and climate parameters, and changes them on demand; an option is provided to optimize and record the log file. Control can be conducted via the web interface, with an option of integration with the business centre's BMS.
Energy efficiency
Demand-controlled ventilation of business centres, which takes into account the number of people in the room at any given moment, helps considerably reduce the operating costs.
Demand-controlled ventilation
Operating modes are adjusted using the data transmitted by sensors that detect human presence in the offices, as well as the air temperature and CO2 concentration, and take into account the on/off switching of electrical appliances.
Business centres equipped with Swegon systems
Leader Tower business centre
St. Petersburg, 52,000 sqm.
A modern 40-story building, 140 meters high. The normal floor height is 3.3 m. The total floor space is 52,000 sqm. The floor is typically subdivided into 4 blocks with an area of 180 and 230 sqm, each one with a bathroom and a small dining area. Open-plan layout can be used in each block. A conference room is provided in the centre of each floor. The business centre offers space for cafes and restaurants, and there is a panoramic view restaurant on the top floor.
Equipment installed:
Swegon Gold LP 05 ventilation units — 31 units.
Swegon Gold LP 08 ventilation units — 41 units.
Parasol comfort modules — 102 pcs.
Quattro Corti business centre
St. Petersburg, 20,000 sqm.
The Quattro Corti complex of buildings includes a modern class A+ business centre, a panoramic view restaurant, and an underground parking area. The project developed by Italian specialists combines classical architecture, innovative design solutions, and state-of-the-art engineering technologies. While preserving the historical façades of both buildings of the Quattro Corti complex, the architects provided a cutting-edge design space behind the buildings. The business centre is provided with an automated underground parking garage, the first of its kind in St. Petersburg.
Equipment installed:
Swegon Gold RX and Swegon Gold SD ventilation units – 19 units.
Unified Distributed Contact Center of Sberbank of Russia
Volgograd, 6,500 sqm
The project aimed at supporting the clients of Sberbank of Russia has been implemented in five Russian cities — Moscow, Yekaterinburg, Volgograd, Voronezh, and Omsk. The Sberbank Contact Center in Volgograd was opened in 2012. The business centre uses advanced software and hardware that help provide all the necessary information to the clients, including video and online consultations. The building accommodates 1,200 people. Its energy-saving ventilation system was developed based on Swegon Office Water solutions.
Equipment installed:
Swegon Gold ventilation units — 15 units.
Pacific cooling beams, Swegon diffusers.
You can order preliminary calculations for your project free of charge by applying online. We are also ready to review your new project or old ventilation system. A professional evaluation will show whether more cost-effective options are available, and how the power consumed by the units can be reduced.